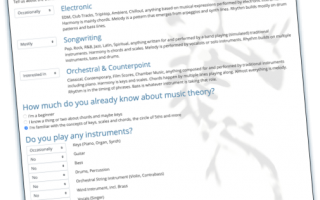 While preparing for a new generation of Synfire and HN, Cognitone is looking to update all tutorials and music examples to make them more instructive and fun. Let us know your musical preferences now, so we can make stuff that best suits your needs.
Creative Chaos
Synfire and HN support an early creative process that mostly happens in your head. If it was merely about recording and mixing, a workflow almost every musician is familiar with, things would be easy. In stark contrast, composing music from scratch is a chaotic, unpredictable and highly experimental experience. It requires you to develop an idea, execute it and decide whether you like the result (easier said than done) and then rinse and repeat until you're satisfied.
The very first step in this chain, coming up with a new idea, is the most challenging. It requires you to imagine how your music will sound and unfold, a process that is greatly helped by listening to and talking about inspiring examples.
Our making of workflow tutorials and examples however has been kind of paralyzed by the many different ways there are of thinking about and making music. Heck. There are not two composers out there that would work the same way. For an EDM producer, talking about counterpoint is pretty useless. A classical film composer has little patience for looped bass lines or blocked-out chords. Were they talking about melody and rhythm, both of them would think of different things. How could one workflow tutorial make all of them happy?
There would have to be a specific version of tutorial for different audiences, which is a pretty huge task if you consider there are also multiple languages to cover. Fortunately the music scene isn't as polarized and divided as politics are these days, so explaining a thing from two or three different angles should suffice to reach everyone. 
Tailored To Your Needs
Long story short, beginning with the next generation of Synfire and HN, Cognitone will provide new workflow videos and music examples that will specifically address three different audiences: Electronic, Songwriting and Orchestral (check out the preference settings in your user account for more details).
While there has been a survey online for quite some time, it didn't get much attention (we didn't push it for technical reasons). In order to learn how many users there are in each audience, we now integrated a preference setting right into your user account:
(https://www.cognitone.com/user/survey.stml)
Knowing more about your music work will help us make new videos and examples that are more relevant to you. By focussing on one audience at a time, we will also be more productive and less distracted.
Thanks for reading!
Oh and no, I won't yet go into the details of the next generation currently in the making. I'll get back to that topic in another post later.