Posted
This is the thread about bugs. 
For feature requests see My list of suggestions.
This is only a personal list for not having to open 1000 threads, it doesn't represent a roadmap or anything official, etc.
Updated for version 2.0.10 Build #17
Mind that I'm on Windows 10 64-bit.
Marked in yellow are serious problems (IMHO).
Issues introduced with V2
With not even a very far zoom, you can't place/move/resize containers with different Schemes because it glitches bad. 
 
So you need to zoom in, but it's very hard for the user to guess the cause.
Manually (with the mouse) resizing a group of symbols is glitched and unusable. All the lenghts glitches and stretches to the end of the cursor.

New around 2.0.9: After creating a new instrument, it appears that by setting any option like "Hide" or "Staves" in the export settings, for such instrument, it actually applies the option to ALL instruments. 
Still there in build 0.10b17
With build #9 or #10, instrument labels just stopped working.
A lot of times when clicking on chords in the Palette I get no audio and I have to click "Reset Audio/MIDI System"

(or just press stop? suggest but not tried yet) to get playback again. Very easy to reproduce when changing the clicking from the Palette to the Progression above.

Selection (the type where you click on the void and you start dragging, in order to enclose symbols) is very broken; e.g.if I release the selection here: 
 
it doesn't select anything. If you select quickly, it fails probably because of the slow GUI; however, even if you select slowly but, before releasing the mouse button, you just slightly move the mouse, the selection fails. Especially happens with chords.
Selection with the arrow tool ("Pointer") doesn't work. It only works with the "Symbol" tool. This might be on purpose, however the selection rectangle is shown to the user, but no actual selection results from the action, so this is very confusing.
Factories: Parameters.Velcity Metric Velocities: Min and Max don't work. Update: I've been able to find out that the bug happens when the range is small, e.g. 62 to 70. In such a case, Synfire just use the entire 0 to 127 range. However small the range input by the user, it should still work with it.
The playback vertical line is not shown in the "Phrase Editor", and that's annoying because it's harder to keep track of the position by watching only the top part.
In the Palette tab, the orange-highlighted chord, which is currently playing, is often not highlighted in its equivalent palette block when it's currently selected (and so it is blue and it hides among the other colors). When you click on the progression, it should highlight the chord even if it is the correct one (maybe with some border, or by flashing the selected chord, or whichever method).
Bad perfomance with the Embedded Help active. The slowest thing is when you click chords in the progression tab: more than 1 second lag. 
Update 2.0.7: some more improvement. Still a bit laggy when clicking chords and using factories.
When you resize the main container such that it fits the window, the horizontal scrollbar is not updated; it disappears only by manually refreshing the window. Same problem that existed for the "tracks" panel.
About the feature "Show all velocities in context when altering with mouse": 
The velocity points are hidden behind notes, including the point you're editing, so, depending on the Figure, sometimes you don't see most of the points.
In chord segments, there is no help for inversions and "Close" / "Open", both in tooltips and in the embedded help. Probably due to the usual Smalltalk GUI issues.

If Synfire is already open, you cannot open an arrangement or a library from file explorer (at least on Windows):

(https://users.cognitone.com/topic/cant-open-cognac-files-windows-explor…)
Progression tab, empty section: 

There is the "Show Grid" option in the Progression tab too, but it doesn't do anything there.
When you have a lot of panels open, factory settings can get hidden and there is no vertical separator to fix this: 
 
There should be at least a non-functional visual separator to make clear what's going on.
What's this button? 
 
Here since 2.0.4; seems like debug stuff.

Typing / text edits:

(complicated because of technical reasons; Smalltalk, etc.) 
 
This is not just a visual glitch, it makes it extremely difficult to edit text, including number sequences. 
Update 2.0.6 Build #3: slightly improved.
In the keyboard shortcut settings, the Spacebar key is shown as empty, probably the space character itself is printed.
Assigning a keyboard shortcut combination that uses the Alt key is impossible in Windows.
Playback metric scheme glitch, both in the track sheet and in the phrase editor: 
 
Also the playback cursor stutters sometimes, but this may not be fixable with the current GUI. 
Update 2.0.9: I mean, completely removing the vertical bar in the scheme bar is not a solution... ...
New "Dynamics" parameter: the global parameter shadow is drawn even when editing the parameter itself which is casting the shadow.
Factory -> Segments -> Check "Tails": the text edits for the tails don't get enabled (they stay grayed out), so you have to switch to another setting and back to correctly reload the panel. 
To reproduce this you have to start with "Tails" unchecked and coming from another setting.

In the factory:

 


The tooltip / Embedded Help says that to check "Complete chord" in a chord segment there must be at least two vertical symbols in the segment: however you actually need three, otherwise the checkbox is not clickable;

a > / >= bug? :)
With Factory pages, the width of the Embedded Help gets messed up and I get this: 
 
Update: adding an horizontal scrollbar is not a solution to the problem... Because the glitch happens anyway, and then you have to manually fix it with the scrollbar. You have to understand why it happens; it happens only with factories.
Tooltips for Preferences -> User Interface -> Tweaks, says Open Embedded Help for information, which however is impossible to open in that window; and other entries have the same problem.
Factories: IMHO "Runs" should be called "Segments" to reflect what they actually do and to give an hint to the user when he's getting no output.
IMHO it doesn't make sense that crash reports are sent via "Online updates". It's confusing.
Minor: unclickable links in the tooltips: (https://users.cognitone.com/comment/19264#comment-19264) ; may be complex to fix but it's annoying.
Minor: the message "Currently no MIDI port is set for input" etc., at the start, can be reset in the options by resetting all warnings, but its checkbox entry is not there with the others, instead it's in Audio/MIDI Setups -> Inputs
Inconsistency in the software icon: there are two different icons being used (one the new light blue one, the other the old one with the pipes) in Windows, depending on where it is displayed.
Old bugs still present in V2
Exporting to notation
Without good support for exporting and for notation, a program cannot be considered music prototyping / composing aid software.
Tuplets
Dedicated thread: (https://users.cognitone.com/topic/notation-export)
Sum up:
The goal is to reach at least this basic level: (https://users.cognitone.com/files/forum/3689/tuplets_test_piece.png) in order to make exporting to XML usable.
Synfire's MIDI resolution must be increased to allow the most common tuplets. Nested tuplets are not required (it will be impossible or very complex to do).
Voice splitting is completely unusable
Its A.I. should be improved at least with the piano as the target. Anyway, most importantly, see "Voices support in my suggestions thread.
Usability / GUI
Lag
At least on Windows, the GUI can be very slow. For example, moving containers is ultra-slow and glitchy. 
See (https://users.cognitone.com/comment/19752#comment-19752) 
When it is not very slow, it is still a pain to use, because it has enough delay that you feel like you are using some antique emulated software, and it hurts bad. 
2.0.7: big improvements. There's still the thing about the selection gray empty rectangle, which is always behind.
Spacebar and focus
The spacebar sometimes doesn't work because the GUI focus is somewhere else: this is very annoying because sometimes you are not able to start/stop the playback.
This happens with other actions and with other keys/hotkeys too.
Moving note up down with Shift + Up / Down crazy lag
Using Shift + Up hotkey you can move a note up, and if you keep the hotkey pressed the note keeps moving: this as a bit of lag, but if the instant playback is on it has a crazy lag and if freezes the program for a while; so maybe the rendering could be called differently in this particular case.
Container panel: scrolling down makes the metric scheme disappear
In the container panel, scrolling down makes the metric scheme disappear, which is annoying when e.g. moving containers around. The metric scheme should stay visible as it does in the instruments sheet.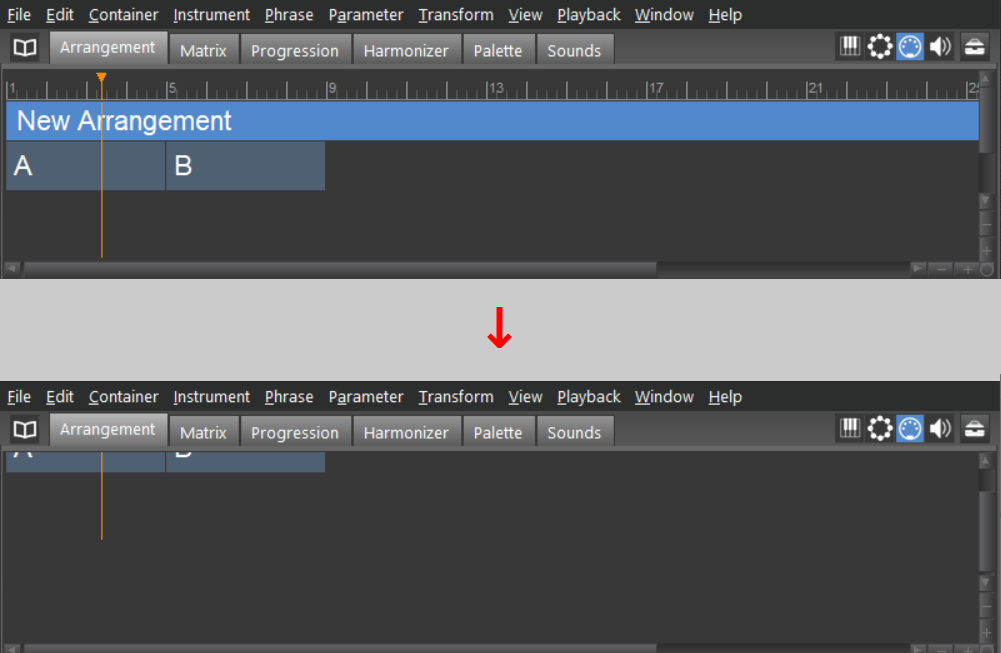 Tabs support
There currently is no support for the tab key. If I'm e.g. in the factory and I'm on a text edit, by pressing tab I expect to move to the next textedit below, instead the focus jumps to a completely different panel.
Text edits/areas: Home and End keys don't work
Especially programmers, but everyone who is familiar enough with computers uses the Home and End keys to quickly jump at the start and at the end of some text. This is currently not supported.
GUI: minor things and glitches
Inspector panel: no scroll
The inspector panel does not scroll, so if the whole bottom panel doesn't have enough height, the content will be truncated. Instead, the parameters list panel to its left, for example, does scroll, preventing this problem.
---