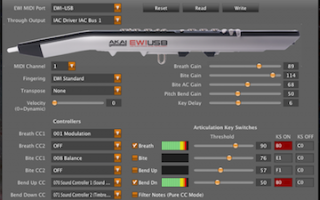 Cognitone has released Akai EWI-USB Control, a utility software for the wind controller hardware EWI-USB from Akai Professional. The tool provides controls for all the hardware's parameters and allows for saving frequently used presets to disk. This way a player can keep multiple settings for different setups. The tool is available for free.
Akai EWI-USB Control can be chained between the controller hardware and a sequencer or synthesizer software in order to filter the MIDI data stream in real-time. Four different key switches can be assigned to individual hardware sensors and trigger specific sound articulations this way.
The EWI is a very creative instrument. If you have any affinity to wind instruments, you should risk a look. Earlier this year, I used an EWI-USB to try out different ideas using a wind controller for melody recording and phrase generation with Synfire (more on this later). I built this utility, because I could not find anything on the net that would do what I need. It was a quick and dirty hack. Since it would have been a shame to not share it, I invested another day and polished it a bit so EWI players around the world can now use it too. It is simple, yet very useful.
I should note that I am a bad player. I once played the flute in my childhood, but never touched a sax or clarinet. Since I am a big fan of the trumpet, soprano sax and clarinet, I thought it would be great if I was able to record melodies with the EWI and have Synfire take care of everything and just preserve the human expression. After two hours of playing, I felt more and more comfortable and the playing techniques burried deep in my memory started to return. The most obvious advantage however was that I could take my laptop and headphones everywhere and not disturb anyone.
If my limited time allows, I will eventually post a sample composition created with the help of Synfire and the EWI-USB. 
Get the download here: http://www.cognitone.com/link.stml?to=ewi
Comments
Sat, 2012-11-10 - 17:49 Permalink
Hi Andre. I just tried the software. I can't seem to get a sound when using it with Cubase (Win 7 64bit). I'm running Sample Modeling winds (both the Kontakt and SWAM versions) in Cubase. I presume I should start the new EWI filter outside of cubase (there's no apparent way of launching it within Cubase). I'm following the somewhat sketchy user instructions and they're not working so far. Am I missing something? What settings should I use with it and cubase to get them to communicate. Is this some kind of midi rewire issue? Could you or someone else provide a walkthrough? Of course if you don't use cubase then maybe you can't advise, but any help would be greatly appreciated.
Heath
Sat, 2012-11-10 - 18:12 Permalink
Hi Heath, this tool works outside of Cubase, chained between the EWI and Cubase. The Mac has its IAC driver, but on Windows you need a Loopback Driver (LoopBe, ports appear as "Internal Midi") to send midi output of the tool to Cubase midi input:
EWI-USB => Akai EWI-USB Control => Internal Midi  => Cubase
In Cubase, select "Internal Midi" port as midi input.
Wed, 2014-05-14 - 23:55 Permalink
This Freeware was just updated to version 1.0.2.
Fixes include:
Aftertouch messages from breath sensor not handled correctly
Pitch bend messages ignored by articulation controls
Reset should retain MIDI port selection
MIDI port setting not saved with preset
MIDI ports not connected immediately after start
Misc minor fixes