Today I used Synfire to transform a Brahms intermezzo into something else.
First, in Synfire I recorded from a MIDI piano the first 9 measures of Brahms at a very slow BPM and separate hands (I'm not a concert pianist!).
I had to partially correct the interpretation of Synfire, since Brahms entered chromatic passages. In (a few) segments it was necessary to bypass the Voice Leading parameter. I also entered by hand the original Brahms' harmonic progression.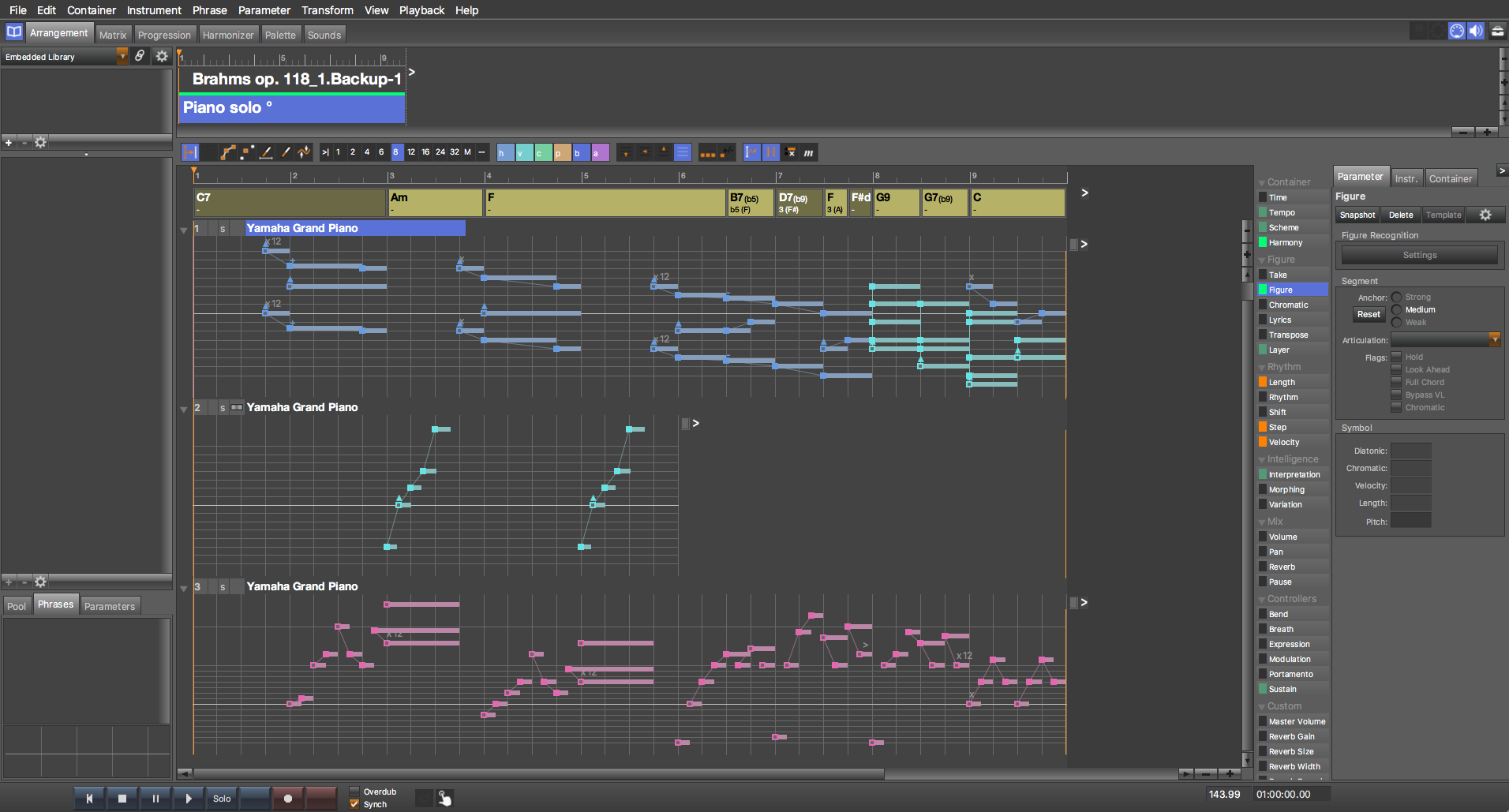 You can hear the result from the file Brahms_op_118_1_original.mp3
At this point I created an empty arranger window and dragged into it the Container of the original work of Brahms. Synfire asked me about some elements to include in the imported container, and I answered YES to Tempo variations, because I manually draw some BPM modifications to humanize a little the excerpt. See the following animated gif: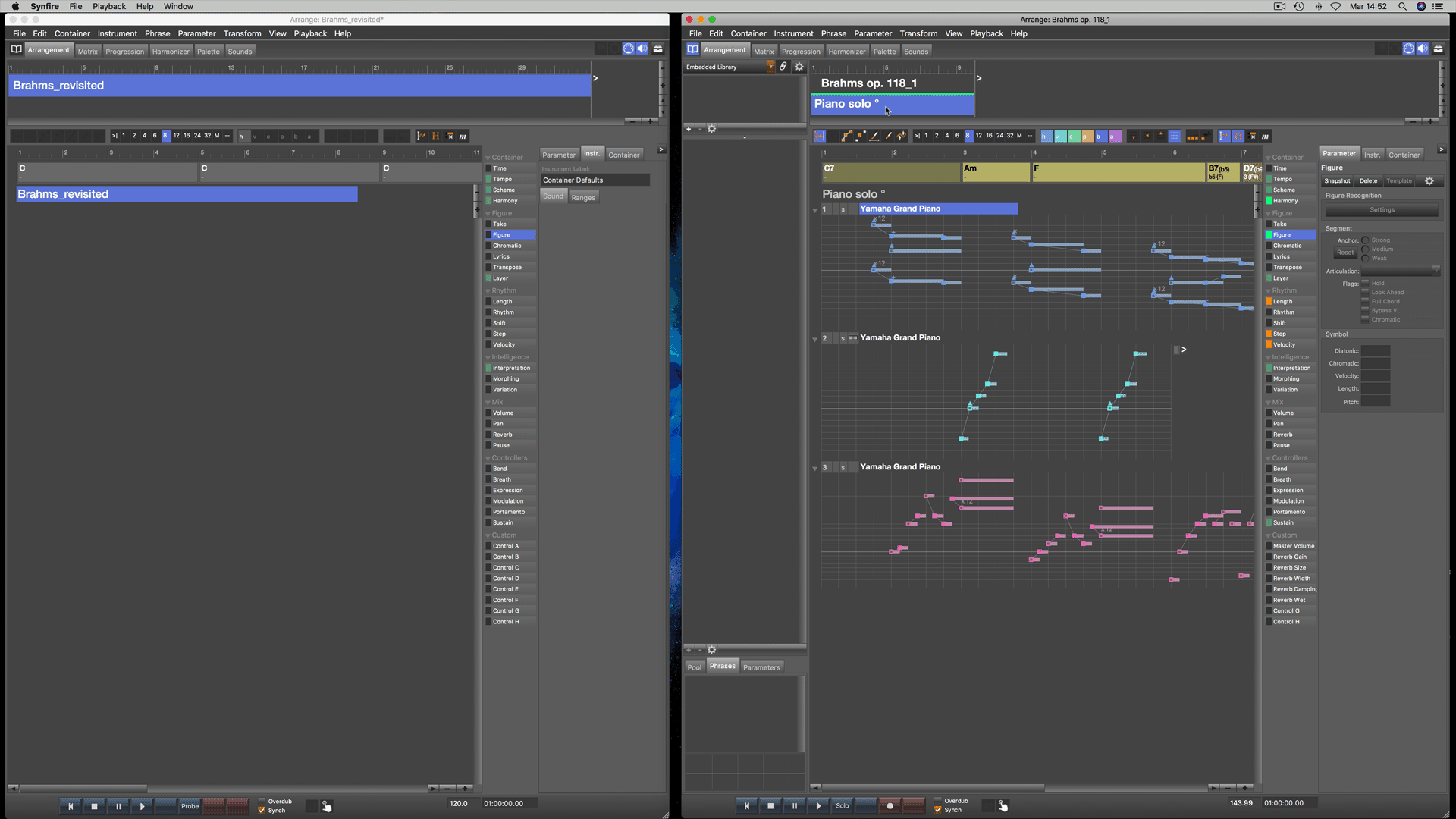 I eliminated all my previous chromatic corrections from the melody and finally I got nine measures on a static C major harmony. The result was rather monotonous: you can listen to it playing the file Brahms_Autumn_Cmaj_only. mp3
I then dragged the template Autumn Leaves shipped with Synfire, and I got this harmonic progression: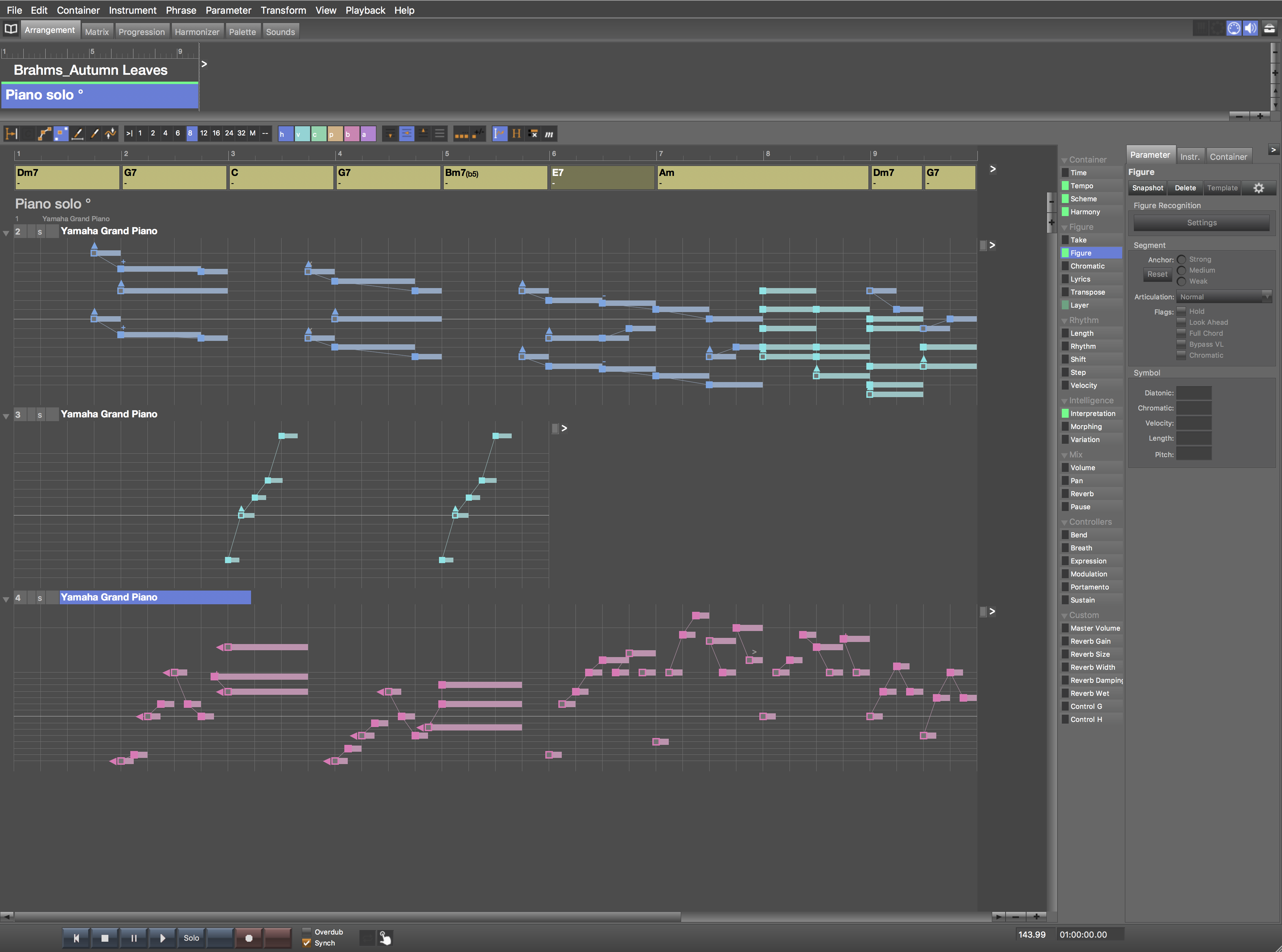 I corrected some not very good notes in the bass, and you can hear the result from the file Brahms_Autumn_harmonized. mp3
It can be further improved a lot, of course, but it makes the idea: we now can listen to Autumn Leaves standard on the almost same piano writing of Intermezzo op. 118 n. 1 by Johannes Brahms.
It was very instructive and amusing.
Hope you will love it ;-)
brahms_op_118_1_original.mp3
brahms_autumn_cmaj_only.mp3
brahms_autumn_harmonized.mp3
Comments
Wed, 2017-11-08 - 10:32 Permalink
Roberto, thank you for sharing your musical journey of discovery with Synfire. It's been really educational to see how you have systematically gone through the process of learning and experimenting with Synfire.
I think it would be really useful to others, especially new users, if somehow Andre or yourself could combine all of your posts into the Synfire wiki or blog post, so they are available in an easy to follow format linked from a summary on one page. I wouldn't include the posts where you have discovered bugs or issues as hopefully these will get resolved and won't affect others going down the same path. That's assuming you agree to this and Andre also thinks it would be useful?
Sat, 2017-11-11 - 13:04 Permalink
Blacksun, thank you for your appreciation :-)
I've been using ScreenFlow for a few weeks and I still have to learn all of its functions (adding text and so on). But I'm considering the opportunity of making videos instead of tons of animated gifs, and post them on my YouTube account. I think it would be much more practical for everyone to watch a video rather than read a long text (also more tiring to write for me...)
Thu, 2017-12-21 - 16:53 Permalink
I think it would be really useful to others, especially new users, if somehow Andre or yourself could combine all of your posts into the Synfire wiki or blog post, so they are available in an easy to follow format linked from a summary on one page
Just did that. Thanks for the suggestion: